Traditional residence Nikolaos
At Ancient Eleftherna in municipality of Arkadi, prefecture of Rethymno
The villa Nikolaos can house 4-5 individuals also in exceptional cases 6.' It has area 75 m2 in the ground floor and 55 m2 on the first floor. On the first floor there is also a spacious veranda 40 m2.

On the ground floor there is:
the kitchen
the living room and fireplace,
a small W.C. and washing-machine
the television (with free satellite channels)
On the first floor: (wooden internal staircase)
two bedrooms with a double bed in each one and one of them also has a single bed.
Each bedroom also has air-conditioning.
Between the two bedrooms there is the bathroom (with bathtub).
There is also central heating (radiator) and there are disposed abundant timbers for the fireplace.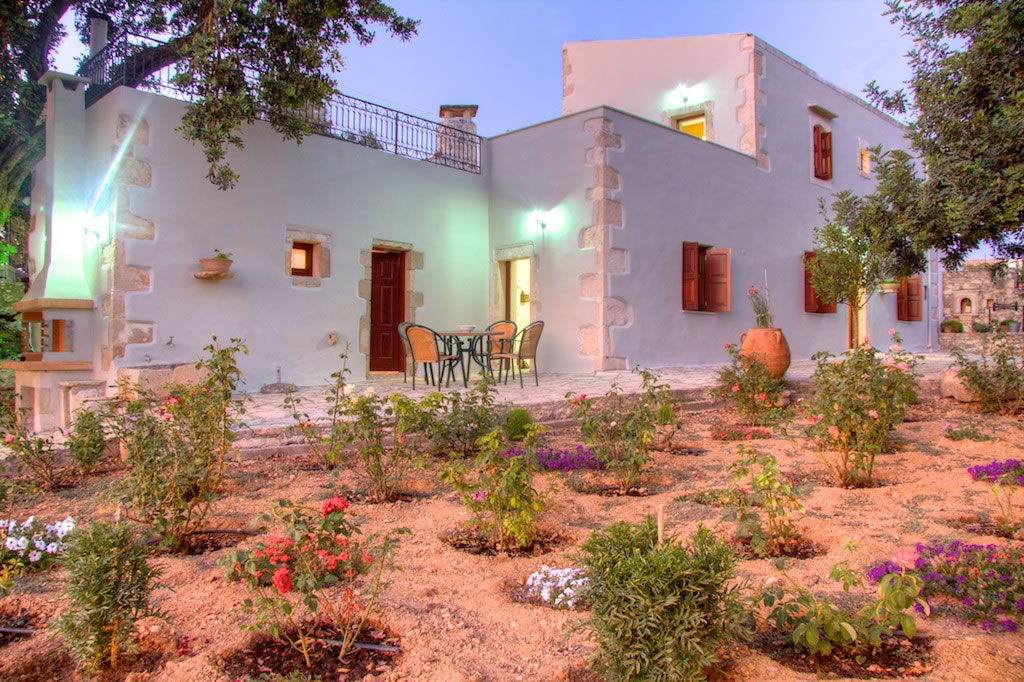 This villa Nikolaos is an old farm house more than 100 years ago. It is on the edge of village Ancient Eleftherna, so that no one is disturbed by the activity of residents, (besides it is a very quiet, small village) at the same time it is still part of the village..
There is a very big exterior space pict.

1300 m 2 garden with roses and other flowers , 6 very big carobs, stone built terraces with a vine and fruit trees. swimming-pool pict

its dimensions are 8x4 metres. The view

is exceptional, in a lush, green landscape, as it is situated on the brow of steep slope. The village is built on a high hill and in the round region there was the ancient city of Eleftherna. It is the main archaeological site of the prefecture. The sea is about 15 kilometres away. Nearby is the historical monastery of Arkadi

, traditional village of Margarites

( 5 km ) with 3000 years live up to today tradition in the pottery and a lot of other traditional villages. For those who love quietness, strolling, the nature and the genuine Cretan landscape, is a very good choice. Also, owing to its location in the prefecture, many interesting regions of Crete are reachable by car.
see more photograps