Locality
The Villa Nikolaos is one old farm house built more than 100 years ago.It was restored by the owners in the beginning of decade ' 90 with great care and attention to keeping all the traditional elements and with much personal hard work (it was not intended initially for tourist use). It is on the edge of the village, so that no one is disturbed by the presence of residents (besides it is a very quiet small village), t the same time it is still part of the village. pic. 1

pic. 2

The view is exceptional, as it is found in the brow of a steep slope that dominates in the very green landscape.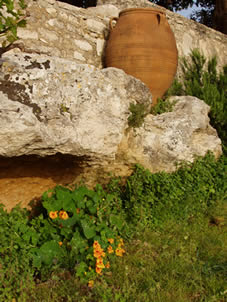 There is a very big exterior space 1300 m2, garden with roses and other flowers, very large carobs; stone built terraces with a vine and fruit trees.
swimming-pool pict.

, dimensions 8x4 of metters, it is situated in the best spot, with amazing view (as if you are found in a helicopter that flies above the ve rdurous valley!).
The village is built on a high hill, above it and in the surrounding area the ancient city of Eleftherna was located. It is the main archaeological site of the prefecture ( see the map with archaeological and other of sites of the village and the streets and the paths that connect them

and its memorandum

). The sea is about 15 kilomtres distant . Nearny ( 11 km ) is found the historical abbey Arkadi

, the traditional village Margarites

( 5 km ) with a living tradition in pottery  going back 5000 years and a lot of other small picturesque villages ,that maintain still maintain their lively colours and traditional architecture.. For those who love the quietness, strolling, the nature and the genuine Cretan landscape, it is an exceptional choice.
Still, because of its position in the prefecture of Rethymno , access by car is easy tp most of thw island,eg Chania, Heraklion, Sfakia, Anogeia, Nida, Knossos, Faistos, southern beaches, that are many and beautiful. The road network is excellent and passes through some of the most beautiful and still attached landscapes in Crete. Particularly we recommend the visit in the southern coasts, via the very green province of Amari- via Arkadi, Thronos, Meronas, Gerakari, and Spili etc. The prefecture of Rethymno is the narrowest in Crete and thus the access in the southern coasts is easier. Moreover, the morphology of southern coasts of prefecture of Rethymno is such that the beautiful beaches are numerous and, up till now, not spoilt by the whirlwind of mass tourism and ill-conceived "development". As fro the province of Amari, beacause of its location and the difficulty of access, the natural environment and humman qualities are maintained and those that visit the area love it.