The people
The " Villa Nikolaos» is looked after by the owners Katerina (Keti) Zaharioudaki and Vangelis Markakis. They live in Rethymno , where they attend and "The house of Dolphins "(" Casa dei Delfini "), an old Venetian-Turkish mansion in the centre of the old city of Rethymno , that they restored and is today a total of five rented studios). 'Thus, they frequently move between the city of Rethymno and Ancient Eleftherna.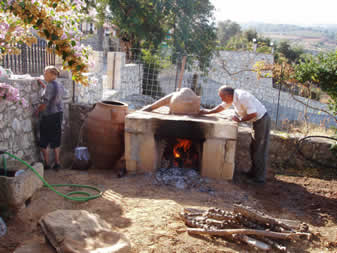 The parents of Katerina John and Katina Zaharioudaki live in a nearby house. They look after the garden, the flowers and the trees and they are at your disposal whenever you need them. They spend their time doing the traditional rural work of the region (a variety of things using to a large extent the traditional methods): olives pict.

, vine, a few beehives pict.

, two-three goats pict

, a few horticultural and fruit trees in a difficult place with very little earth, a lot of stone but verdurous and with a lot of beauty. If you wish to learn about these works and how people lived on centuries up to before a few decades, it will be our pleasure to show you round the place. Perhaps we taste together the authentic traditional flavours of worldwide famous henceforth Cretan diet ( attention: no Mediterranean has difference), in the local variant (Katina is a fanatical cook of this diet).
see more photographs